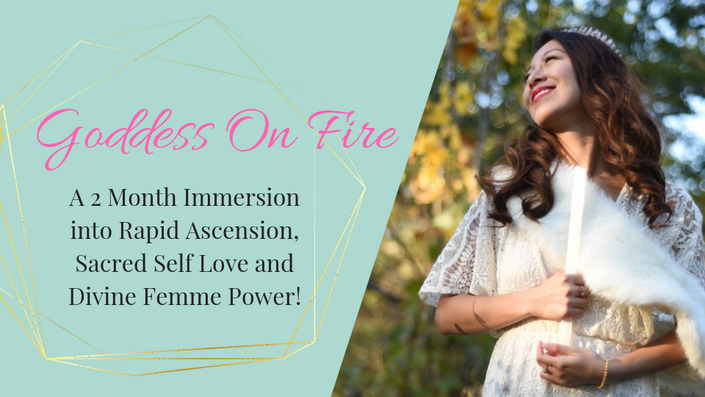 Goddess On Fire
A 2 month Immersion into Rapid Ascension, Sacred Self Love and Divine Femme Power!
Divine Woman, come join the divine femme circle and have a heart to heart with your soul sisters...

I know you have been through a lot. I know that little voice inside of you and what it says when you feel 'not good enough'.
The truth is, that voice is afraid.
Afraid of what?
Your inherent divine feminine power to rise above it!
This voice loses its power over you when you have a Strong Sense of who You Are, a solid foundation on all levels of your being (physical, mental, emotional and spiritual), an Expanded Consciousness and a crystal clear connection to the Goddess energy of the Universe through your Inner Goddess.
Now let's dive deeper with me and and ask yourself...
Have you been holding back from experiencing the fulfilling and successful life that you have always wanted?
Do you feel that you have struggled with the 'I am not good enough' feeling long enough? (tiring!)
Are you tiptoeing around people by putting your needs last in order to be 'perfect'? (draining!)
Are you holding yourself back from speaking your truth because you have a hard time saying no?
Do you find yourself in relationships that left you tired from overgiving, people pleasing, emotionally drained, exhausted and empty and powerless? (Yes you love helping others but what you also need is a sisterhood to uplift YOU!)
Queen, you know deep within your heart you have so much to offer the world.
Being an earth angel with a heart of gold, manifesting your needs doesn't have to be hard.
You can feel it in your bones that times are changing and the divine feminine is rising, the world is your oyster so the real question is...
What is keeping you stuck?
As a nurturing and resilient woman, you know you are a valuable asset to your company, a good catch and a loving woman.
But playing small, being TOO nice, TOO considerate can actually be a symptom of deep emotional wounds that is calling you to HEAL yourself.
If you let these wounds fester, it will start to seep into all areas of your life. And ain't nobody got time for that, Goddess!
Divine Woman, it is time to awaken your inherent power and to deeply love yourself with no apologies, no excuses, no shame, guilt or judgement.
You know that deep within your heart, there is a yearning for more zest and magic from LIFE!
Something is calling you to live bolder than you have ever imagined and with limitless passion and purpose.
You didn't come here to suffer and struggle, sweet divine woman!
Your entire being is asking you to FREE yourself from mental limitations and emotional pain of the past.
You came here to create a LEGACY, live your PURPOSE so you can wake up feeling FULFILLED and radiate love and abundance!
It's time for the divine feminine IN YOU to RISE, Goddess!


Imagine Shifting From...
Feeling stuck, fearful and overwhelmed to feeling alive, bold & vibrant
Over giving, not feeling good enough or worthy to a fierce, radiant and powerful Goddess who loves her body from head to toe, skin to bone
From playing the "nice girl" to embodying your authenticity and sensuality to attract new love, new successes in your life with ease, grace and velocity
Feeling unmotivated, stagnant and worn out to feeling inspired, motivated and clear on fulfilling your future, with a deeper awareness of who you are and what you have to offer this world
Clearing at a cellular level the experience and energy of self-rejection, abandonment and shame to embracing and loving all aspects of yourself - YES QUEEN!
Releasing insecurity and the " better-play-it-safe"mentality to confidently trusting your own capabilities, skills and natural talents to create your legacy
Passively letting 'life happen' to you to actively stepping into your Feminine Creatrix Power, unleashing hidden spiritual gifts you've always had but never knew how to use - YES GODDESS you have super powers


In This Program You Will:
Activate and Integrate with Your Goddess Resonance by working with the energy of the Divine Mother Kuan Yin, Sacred Lover Goddess Aphrodite and High Priestess Isis
Release emotional pain and mental limitations so you can feel light, free and inspired
Shift from hiding your light and playing small to allow yourself to feeling grounded, strong and trust in yourself
A powerful Inner Child Soul Retrieval (Inner Alchemy) technique to deeply heal and transform the emotional body and mental limitations stemming from past memories so you can stop letting the past hold you back from creating the impact that you desire
Radical Self Love Sacred Rituals and Practices to elevate your energy level and uplift your vibration
Learn how to Heal your Emotional Body to release mental and emotional blockages
Heal your Womb to unlock your intuition, creativity and Ignite a new found level of love for yourself and inspire your loved ones
Open to channel to receive messages from your higher self, spiritual guides and the higher realms
Manifest like a Goddess On Fire with Ancient Wisdom, Sacred Rituals and Practices that are easy to implement so you can see results fast!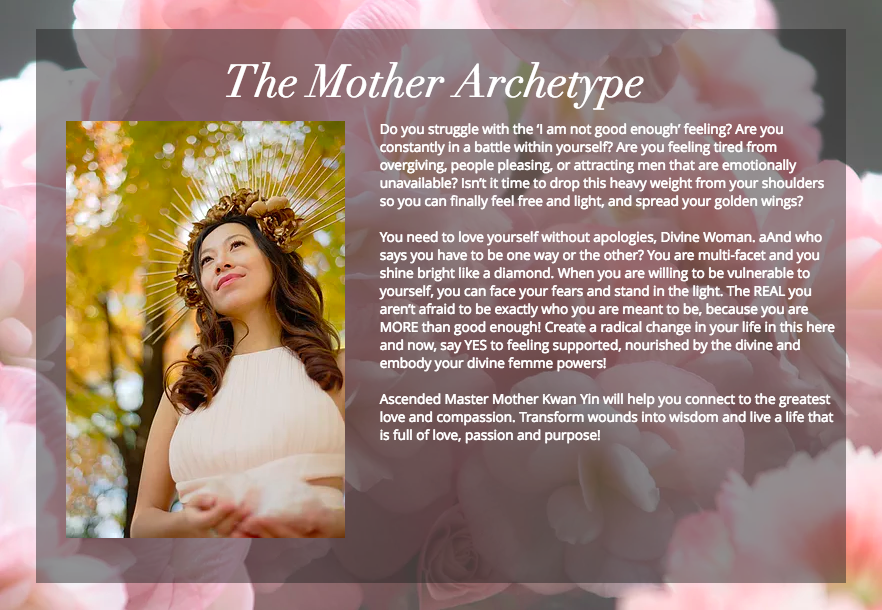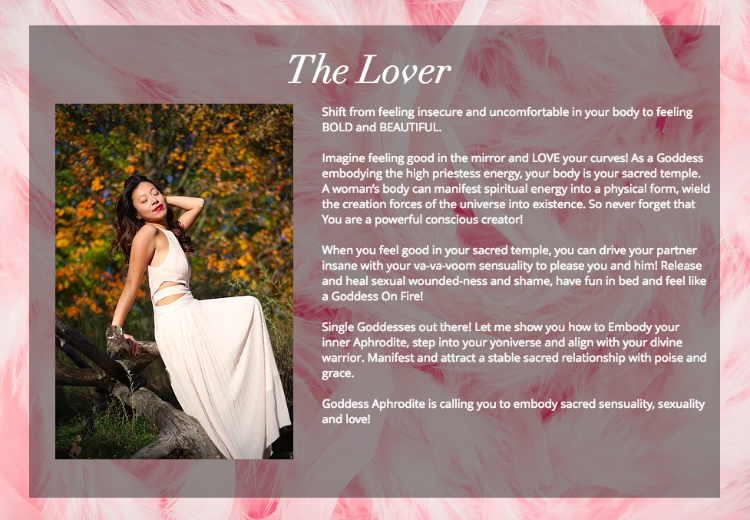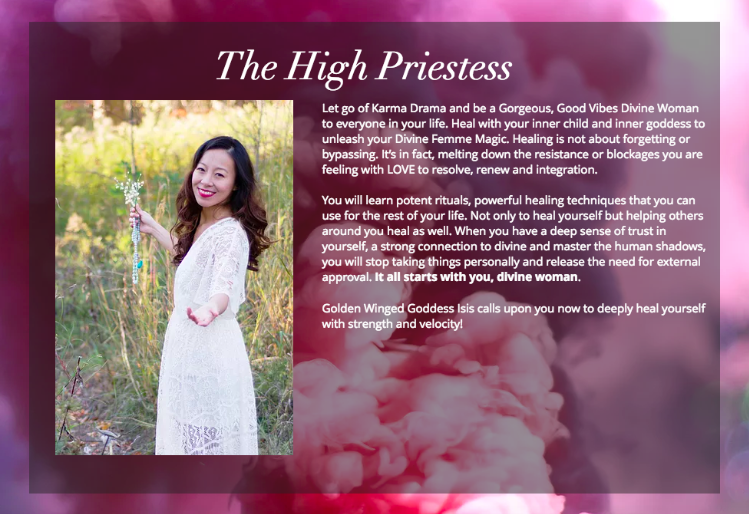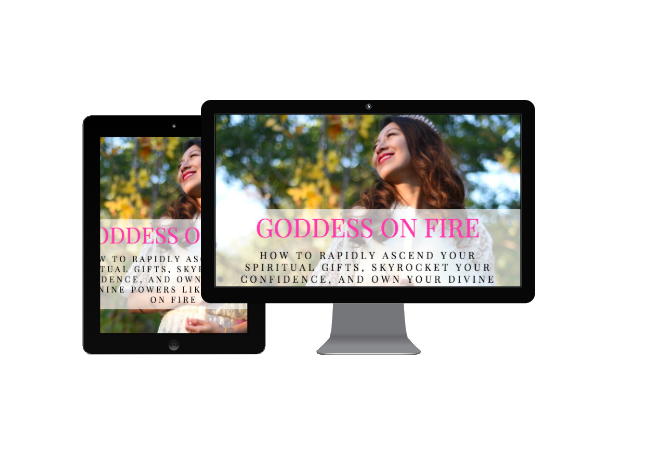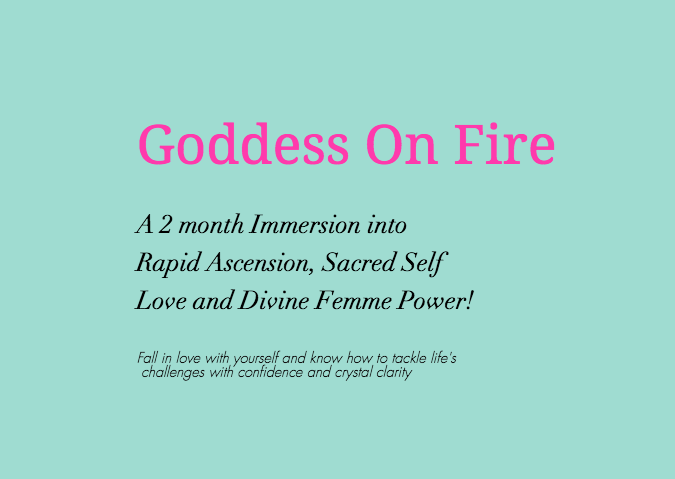 Course Curriculum
WELCOME TO GODDESS ON FIRE
Available in days
days after you enroll
Module 1 - Your Modern Goddess Manifesto
Available in days
days after you enroll
Module 2 [The Mother] - Healing Your Emotional Body and Inner Child
Available in days
days after you enroll
9x 90mins Masterclasses filled with Comprehensive Training and Sacred Healing Practices Healing and Q&As (Value $2,982)
4x Manuals with supplementary information to help you Unleash your Goddess magic (Value $394)
5x Meditative Transmission to Rapidly Ascend your Goddess Resonance (Value $1,594)
3x Workbooks with detailed checklists, step by step process, and self development exercises (Value $1,588)
4x Class passes to our LIVE GROUP healing sessions ($1,247)
ACCESS TO OUR PRIVATE FACEBOOK GROUP for sisterhood support, ongoing classes and group healing session with my team of master healers and I
Total Value: $7,805
Your Investment: CAD $297 Pay In Full
Payment Plan: $356 (2x $178)

Your Instructor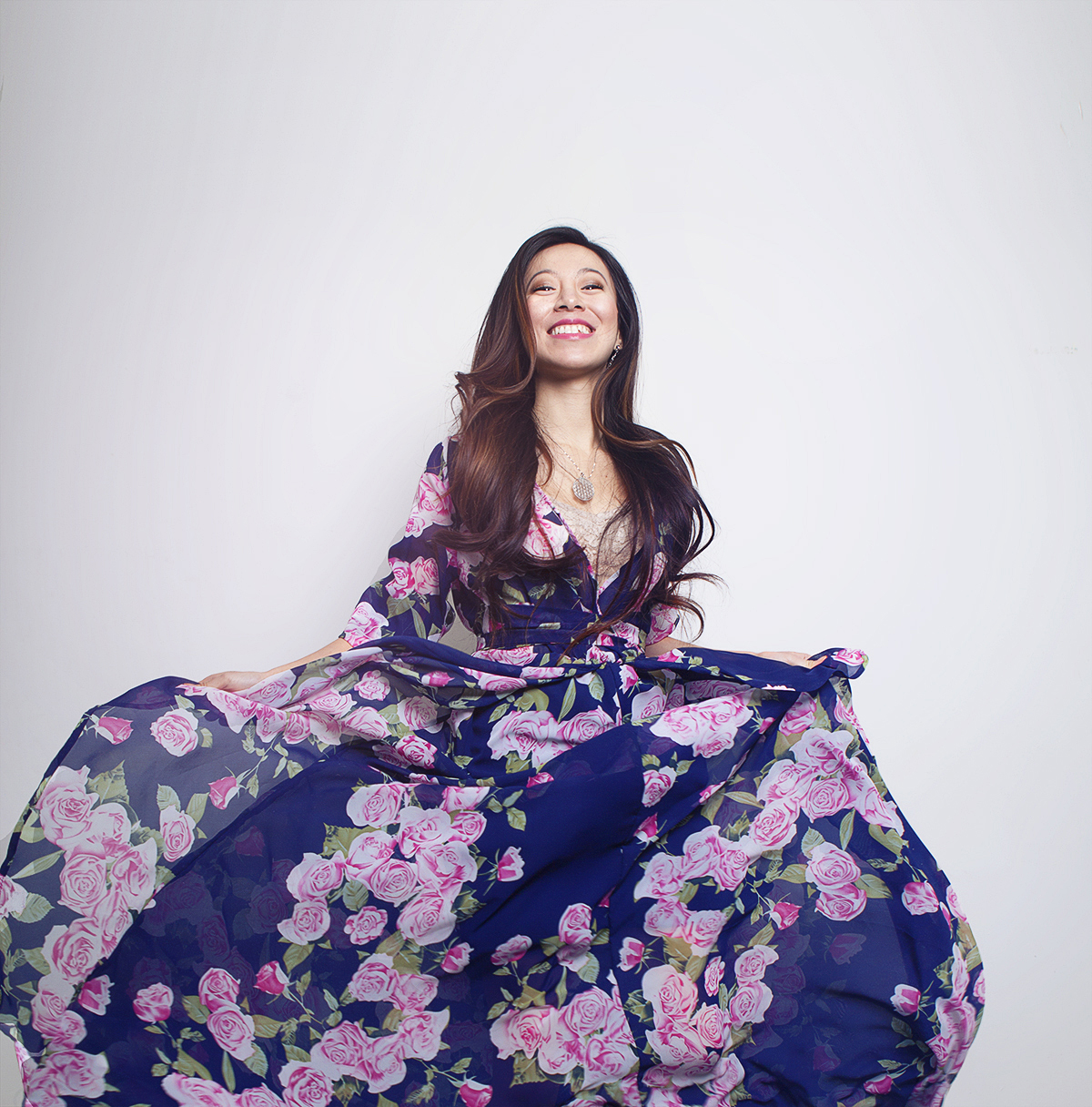 Hi, I'm Tiffany! I am the founder of My Inner Temple, New Earth Alchemists Academy, a certified meditation, Kundalini and chakra facilitator, Reiki Master level teacher, certified completion process practitioner, Tao Divine Healing Hands Healer, Ayurvedic Lifestyle Consultant, Thai Yoga Massage therapist that uses many modalities to release inhibiting fears and emotional pain caused by past experiences. I lead 250+ successful and valuable conscious workshops, healing events, courses, retreats, and webinars every year to share with my community in everything that helps us heal and be empowered. I specialize in energy healing, alchemy healing and facilitating your soul light journey to find your inner truth.
I cannot begin to describe how Divine my experience with Tiffany has been!
She is an exceptional healer and channeler, and our sessions together have been transformational BEYOND words. One of the most unique things about Tiffany besides her authentic connection to divine realms and wisdom she carries and shares during and in-between sessions, is her unconditional loving presence and sincere desire to serve and empower others to act and speak in alignment with their truth, just as she does. Before working with Tiffany, I felt very lost and misunderstood. But since meeting and working with Tiffany, I don't feel so alone anymore. I feel I have gained more clarity to my life's purpose and connection to my higher self. Tiffany, you are truly a gift to humanity and I cannot thank you enough for shepherding my journey and guiding me to the Light.
Melissa / Registered Social Worker
I have to say I'm feeling good today! Activated! Empowered! Unleashed! Tiffany Tin Ty so much for being the light you are. I learnt so much yesterday and feel my guides, spirits and higher self speaking to me. They're telling me to activate in whatever way I see fit, big, small actions, thoughts, praise. We call on all to raise the positive, light, love, frequency of this earth and what better time then now. From the very source. God knows, we need it!!
Tiffany's brilliant and utterly unique synthesis of reiki, shamanism and shadow work puts her at the cutting edge of today's rapidly evolving field of spiritual healing modalities. She gives proof that this work does not have to be scary or painful but in fact can be the very thing that puts us immediately in direct contact with the vibration of unconditional love that we all yearn for. This is because her approach is rooted in the fact that true, authentic, spiritual love begins with that which you give to yourself.

Her profound and intimate understanding of this process can only come from someone who has gone through it herself and her naturally radiant, angelic aura provides an atmosphere of non-judgement, compassion and forgiveness that immediately dissolves the barriers we put between ourselves and this work. Combined, these gifts of hers transform what for many is an intimidating process into a gentle, yet deeply cathartic release that can catapult your spiritual progress forward perhaps more than anything else can.

I anticipate that she will soon find the ideas and techniques that she has innovated near the forefront of the world of spiritual healing and I would wholeheartedly recommend that you experience it for yourself, as I have, since what can offer you can only very inadequately be described in words.
Christian Whittall / Teacher
Before I met you, I knew that I was ready to grow and that I had the ability to be more open spiritually, but I didn't know how. I had been going through so much, so when I would come I just wanted to let out all this stuff I was carrying. You were so attentive and present and after our healing sessions my life, and my family have improved drastically. I am more open, I am more in tune, I see the messages and I am getting more clear on their meanings and what spirit needs me to know.
Tiffany helped me reach a spiritual level that I didn't know existed, to open my heart to such a beautiful experiece of light. It was truly amazing.
Frequently Asked Questions
When does the course start and finish?
The course starts now and never ends! It is a completely self-paced online course - you decide when you start and when you finish.
How long do I have access to the course?
How does lifetime access sound? After enrolling, you have unlimited access to this course for as long as you like - across any and all devices you own.
This course is closed for enrollment.