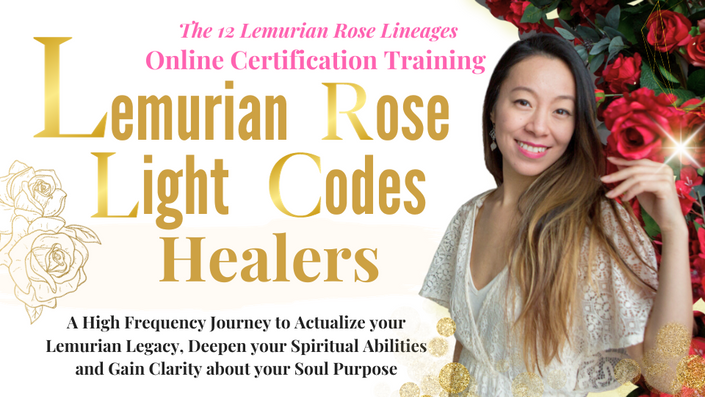 The Lemurian Rose Light Codes Healer Training Program
Become a Certified Light Codes Healers of the 12 Lemurian Rose Lineages
Start my Training Now
Become a Lemurian Rose Light Codes Healer

It's time to reclaim your Lemurian Lineage and Rise as a Healer of Ancient Lemuria
You dedicated your time and energy to working on yourself when what you really want is to fulfill your Soul purpose here on Earth.
You know that living a purposeful life is possible, you feel in your heart that you have a lot to share with the world.
You are a lightworker, you want to help others, you always see the good in people.
You have and always been: The Healer
You already know that you have innate abilities to tune into people's energy, and you are ready for a big upgrade in your life.
Your soul is asking for it, your heart knows it and you are ready to fulfill your soul purpose too.
No more wandering, no more waiting, ascension is now.
Right now, you are stuck somewhere between knowing you want to fulfill your purpose and not 100% knowing for sure how to achieve it.
You know it feels so good and empowering to help other people heal, and feel better.
When people thank you for the kindness you have shown them, it always makes you feel so aligned and purposeful!
Lately, it's becoming clearer than ever that you can have the life that you want.
When you are honest with yourself, you know that you want to help others in profound and life-changing ways.
Lemuria is calling to you now. Mother Earth needs her healers to return and rise. To heal this planet, humanity and the collective whole.
Your fellow healers are here with you, will you join us on this mission?
Reconnect with your soul tribe from Lemuria, remembering your Lemurian past lives, activating your healing abilities as it is naturally a part of all of us.
You will become a healer, teacher and way shower, guiding and helping those in need of healing, light and love.
This online certification training is here to help you.
In this course, you will have lifetime access to the self-paced modules where you will learn about the 12 Rose Lineages in Lemuria.

Activate your Lemurian Akashic Records, learn the Lemurian Rose Crystalline Healing Method and receive high frequency attunements to help you become a skillful and respectable healer.
There are practice sessions guided by me (your teacher) to help you hone your spiritual abilities and gain confidence in your work.
And also a private session with me where I will offer personalized guidance with your higher self to support you as a Lemurian Rose Light Codes Healer.
You will also be able to receive a certification upon completing the practicum requirements.
You could do this by yourself but being a healer means you need a lot of support, especially from a genuine and capable mentor. A quick look at my YouTube channel and website will show that my clients and students respect my work as a lightworker and teacher. Many students' lives have changed upon choosing me as one of their mentors. I know I can help you too <3 Let's bring back the Light of Lemuria, Rose Light Codes Healers!
WHO THIS COURSE IS FOR:
- You are feeling a strong urgency to connect with your Lemurian Akashic Memories, Healing Abilities, Spiritual Guides Connections
- You feel drawn to work with the energy of the ROSE and Master Level Crystals.
- You are ready to Upgrade your Mindset about how you View yourself and the World as an empowered Healer
- You are willing to do the Inner work needed on a path of self discovery and transformation by channelling the 12 Rose Light Codes through the Lemurian Rose Crystalline Healing Method
- You want to gain more clarity about your spiritual abilities and how to use them to Self Heal and Heal Others
- You are feeling excited for GROWTH, living a life on Purpose and Changing into a State of Being that feels nourishing, peaceful and fulfilling
- Women, Men, Non-binary; all people who are in Service to Others, heart-centered, compassionate, loving and kind are welcome!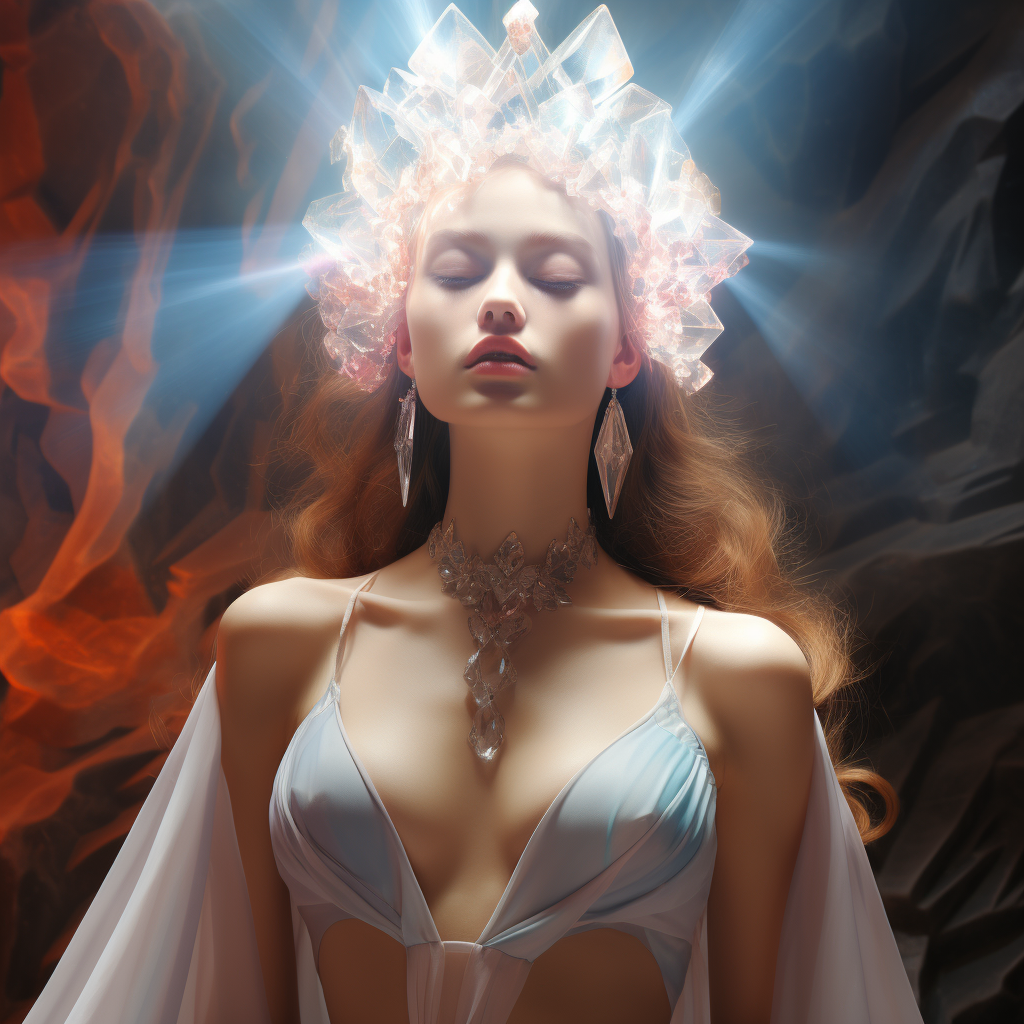 WHAT IS INCLUDED:
- Life-time access to the course materials. Scrolling down to the Curriculum section, you can see the modules and class topics.

- 1 year Access to Practice Sessions with fellow Light Codes Healers. 2 Sessions every Month.
Second Friday of the Month at 4PM EST
Last Monday of the Month at 10:30AM EST
- 1:1 Private Certificate Session (30mins): Upon completion of this course, you have to option to apply and receive a Certificate of Completion.
See what some of my students are saying: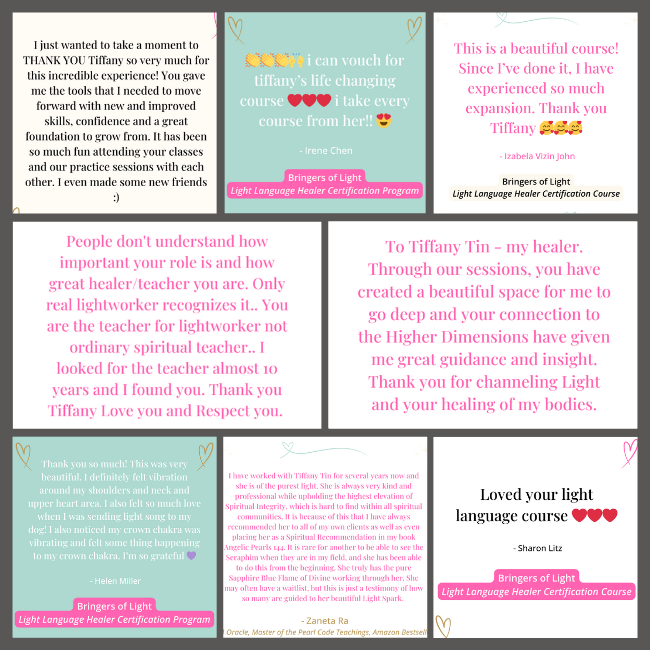 Got Questions?
Please feel free to contact me at: https://www.highpriestessascension.com/contact
Your Instructor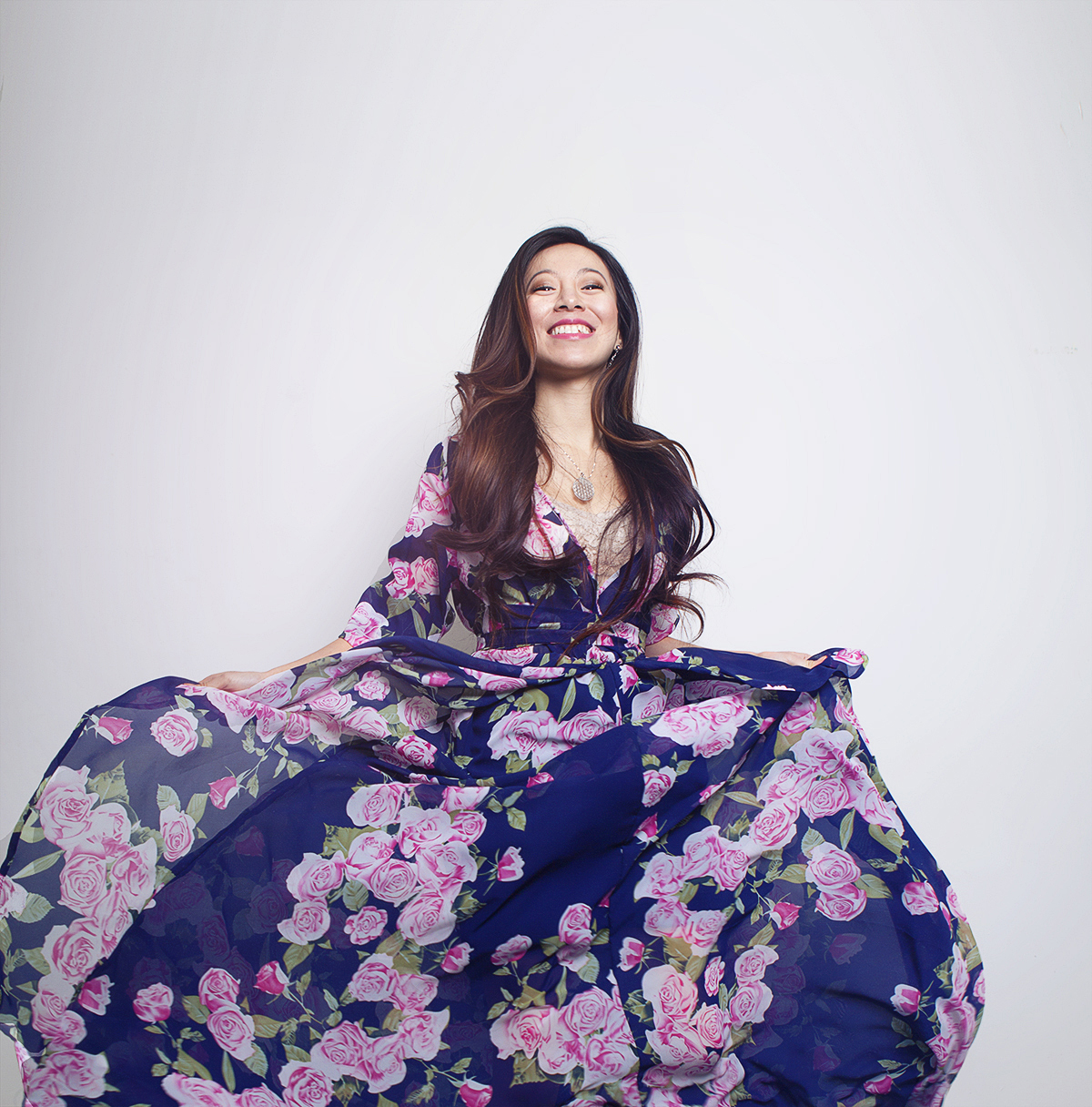 Hi, I'm Tiffany! I am a Master Teacher with 8 years of experience teaching all things channelling, such as light codes, light language, channelling with guides, akashic information, energy healing and much more. I am the founder of My Inner Temple, New Earth Alchemists Academy, and High Priestess Ascension Academy. I am a certified meditation, Kundalini and chakra facilitator, Reiki Master level teacher, certified completion process practitioner, Tao Divine Healing Hands Healer, Ayurvedic Lifestyle Consultant, Thai Yoga Massage therapist. I have led thousands of classes to students all over the world. I have 500k views and 14k+ subscribers on my youtube channel. I have been invited to teach in many well known events and podcasts such as Channeling Now, Wisdom from North, Soul Movement and much more.
Course Curriculum
1. Introduction to Lemurian Rose Lineages
Available in days
days after you enroll
2. Unlocking your Akashic Records - Your Lemurian Initiations
Available in days
days after you enroll
3. The Lemurian Rose Crystalline Healing Method
Available in days
days after you enroll
Frequently Asked Questions
When does the course start and finish?
The course starts now and never ends! It is a completely self-paced online course - you decide when you start and when you finish.
How long do I have access to the course?
After enrolling, you have life time access to this curriculum for as long as you like - across any and all devices you own.
Our Guarantee
We are confident in our training programs, we will keep working with you in the mentoring sessions until you feel confident in your abilities to use the Lemurian Rose Light Codes