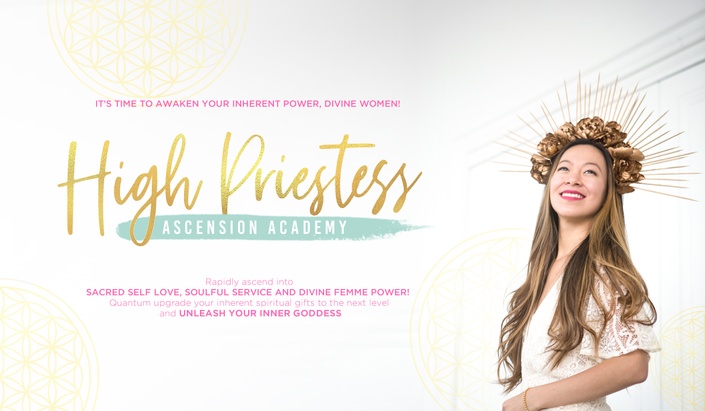 High Priestess Ascension Academy
Online Training to Unleash Your Healing Abilities and Create an impactful Business as a Spiritual Healer
Just like you, I have spent many years working on myself.
And through my own journey through hell and back, it become laser clear to me that my soul's mission is to help Heart Centered Spiritual Women become Empowered High Priestesses by unleashing their inherent spiritual gifts, Create a Fulfilling, Impactful and Successful Business with Purpose, Passion and Fire!
It lifts me up when I see the women in my priestesshood RISE into their divine feminine powers and that I had the honour to be their healer, teacher and catalyst.
I also know what it's like to build your healing business from scratch.
I had to breakthrough a lot of limiting beliefs about money and let go of the stories in my head that feeds into the 'not enoughness', doubts and the opinions of my friends and family
I spent years under earning and over giving, until I realized that to get out of the survival mode in my business, I need to give myself permission to THRIVE as a Empowered Priestess!
I experienced a RAPID ASCENSION that catapulted me to prosperity and flourishment beyond what I had imagined and manifested a profitable business from being broke and burned out.
My lightwork now brings in the abundance that I need to fund charity projects, the freedom to manage my own time and a respectable reputation that draws in referrals every week. It is my wish for you to experience your inherent powers exponentially and skyrocket your success too.
When a woman is empowered, she heals the whole planet.
Being a Priestess of Light is a sacred path. This is not about grow fast and get rich, we welcome healers who are dedicated and committed to their long term visions for the betterment of humanity.
Healers and Lightworkers ARE ABUNDANT, WORTHY, LOVED and so SUPPORTED!
Divine Woman, it is time to awaken your inherent power and to SHOW UP, STAND UP and SPEAK UP without apologies, excuses, shame, guilt or judgement.
Right now, deep within your heart, there is a yearning for more impact, income and magic from LIFE!
Something is calling you to be BOLDER than you know yourself to be and live with authentic passion and purpose. You are ready to release suffering, struggle and stagnancy and step in to your Divine Feminine Power.
You are committed to live with purpose so you can wake up feeling fulfilled and radiate love and abundant!
It's time for the divine feminine IN YOU to RISE, Priestess!
Every single cell in your body is asking you to FREE yourself from mental limitations and emotional pain from the past and commit to your soul purpose of being a women empowerment leader!
When one woman rises, she empowers all others around her.
So now the question is HOW?
How to do you shift from the pain of your past to the possibility of your future?
The High Priestess Ascension 6 month Immersion was created specifically to support you and your potent transformation using the power of Alchemy and archetypes of the Divine Feminine.
Imagine Shifting From...
Overwhelmed and Lost from the pressure of starting a new business to having effective strategies that works for you in the long run so you can help more people while making more money and working less hours
Worrying about where to get clients to having your Soulmate Clients knocking on your door to work with you with excitement and committed towards achieving their potent transformations
Exhausted from chasing after one off sessions or workshops to serving your soulmate clients at a much deeper level with more ease and grace
From playing the 'nice girl' to Unleash your Inner Goddess living in alignment with your soul's purpose, with a deeper awareness of who you are and what you have to offer this world
Feeling unmotivated, stagnant and worn out at your job to feeling inspired, motivated and excited to work on your business so you can have a lifestyle that suits your need for freedom and autonomy
Clearing at a cellular level the experience and energy of self-rejection, abandonment and shame to embracing and loving all aspects of yourself - It's time to let yourself receive, Priestess!
Releasing insecurity and the " better-play-it-safe"mentality to confidently trusting your own capabilities, skills and natural talents to create your legacy
Passively letting 'life happen' to you to actively stepping into your Feminine Creatrix Power, unleashing hidden spiritual gifts you've always had but never knew how to use - YES GODDESS you have super powers! I'll show you show to ACTIVATE them.
In This Program You Will:
Channel and integrate with the Goddess Archetypes - the Empress, the Priestess, the Lover, the Warrior, the Wild Woman and the Mother
Release emotional pain and mental limitations so you can feel light, free and inspired
Stop hiding your light and playing small and allow yourself to feel grounded, strong and trust in yourself
Ignite a new found level of love for yourself and inspire your loved ones
Learn a powerful Inner Child Soul Retrieval (Inner Alchemy) techniques to deeply heal and transform your emotional body and mental limitations stemming from the past
Activate and Purify your past lives to deeply ACTIVATE the high priestess within
Opening your spiritual channels and third eye to communicate with your spirit guides with clarity
Gain the ability to offer Energy Healing to yourself and your loved ones
Learn how to Read Auras, Chakras and learn how to keep your energetic field light and healthy
Radical Self Love Sacred Rituals and Practices to elevate your energy level and uplift your vibration
Learn how to perform Shadow Work and Ego Transcendence to release mental and emotional blockages
Laser Lucid Clarity on your Messaging for a Rock Solid Successful Brand that brings in clients, money and lifestyle freedom
Packaging your Priestess Powers into an Irresistible Offer that gets your dream clients tangible results and transformations
Effective Tips and Tricks to Securing Repeating Clients by Giving them Great Results that make them Rave about You to their Friends and Family!
Building an Audience for CONSISTENT CASH FLOW with a Basic Funnel and Marketplace Credibility
How to Sell to your dream clients with Ease and Grace even if you think you suck at Selling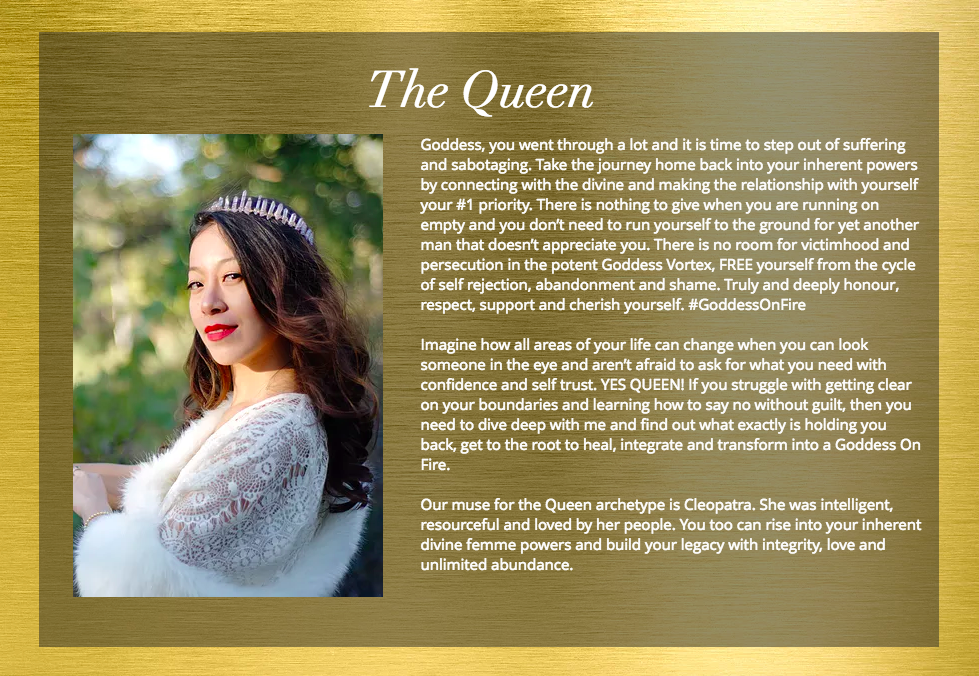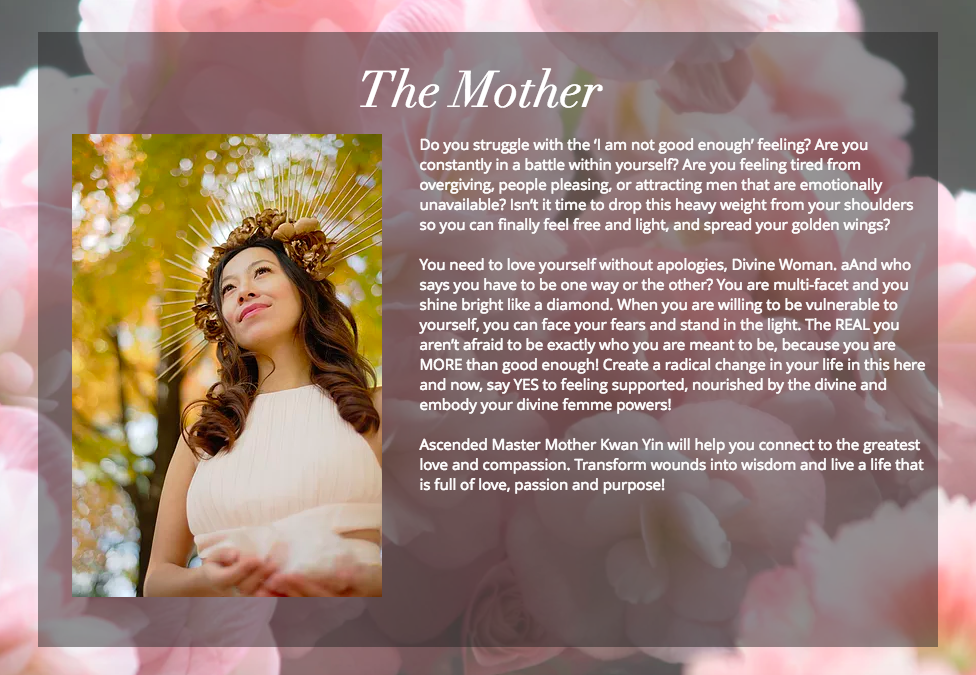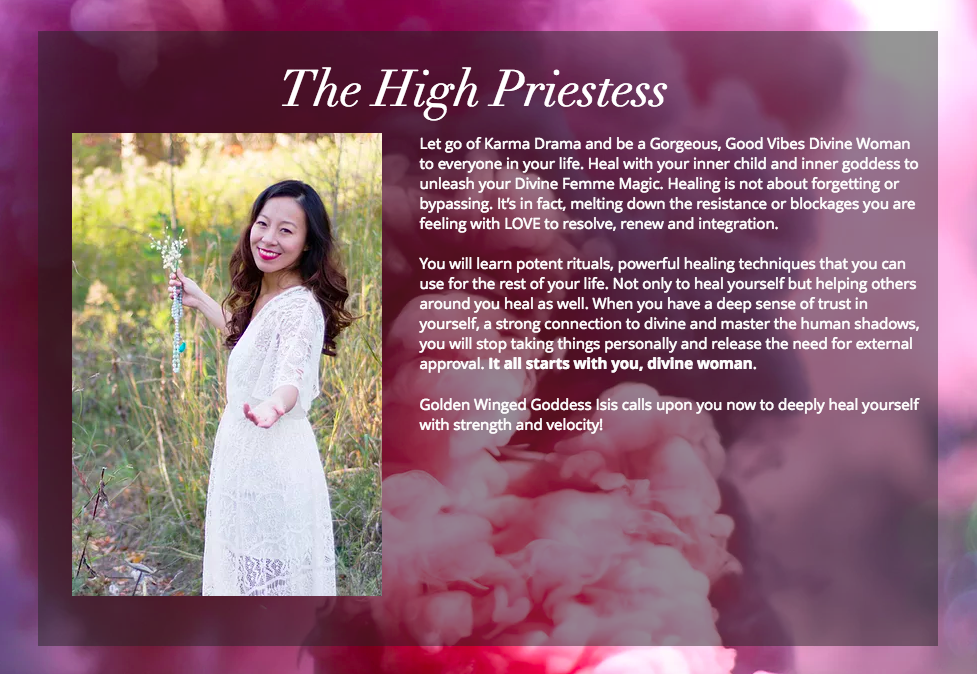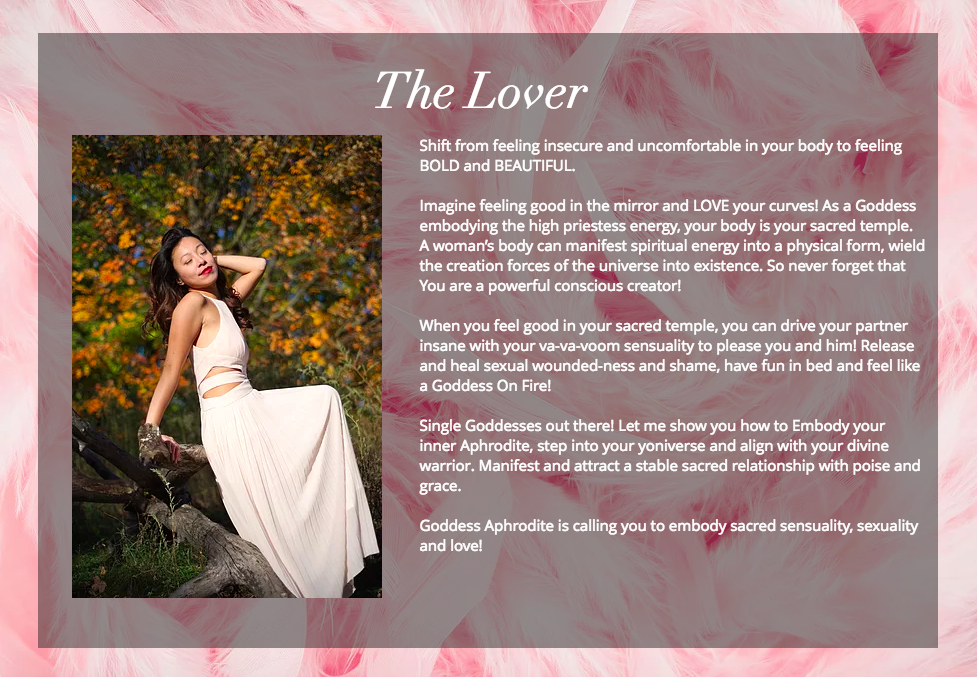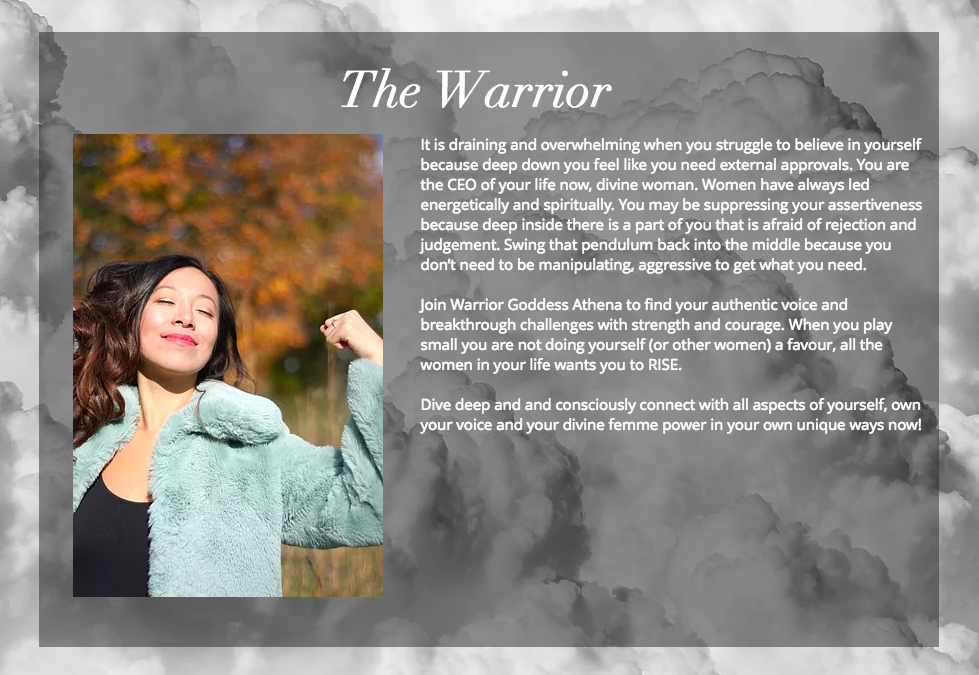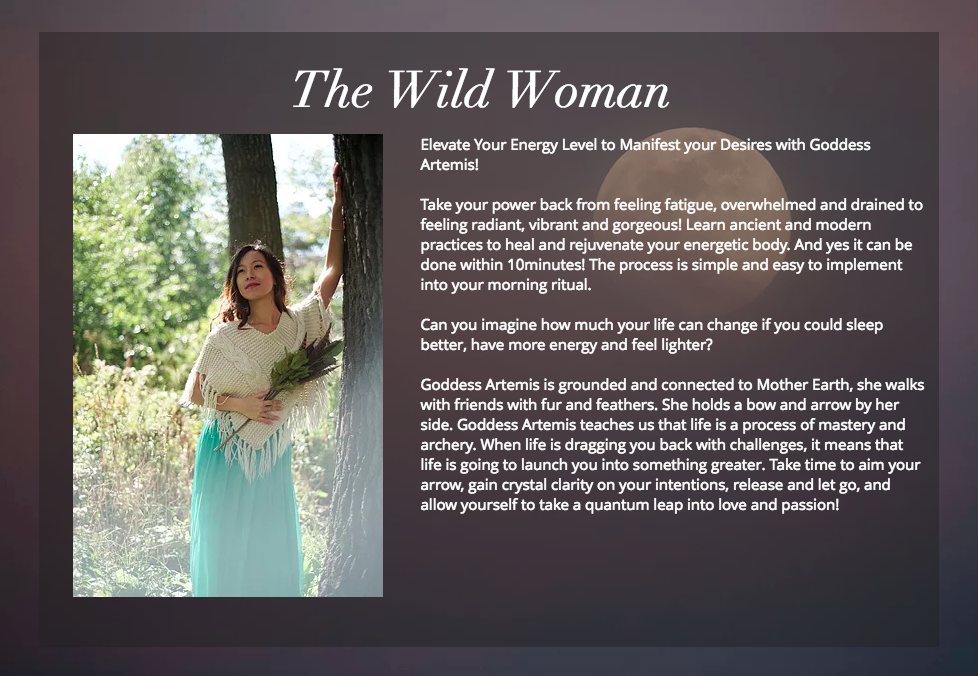 Curriculum Program Outline
PHASE ONE: HIGH PRIESTESS ASCENSION (3 months)
Be GREAT at what you do and offer your Sacred Service with high standard, quality and LOVE
Module 1[Goddess Manifesto]
Unleash your Inner Goddess to map out your high priestess ascension pathway and manifest your fulfilling and abundant future as a Goddess on fire!
Module 2 [The Divine Mother]
Nourish your inner child to rise as a modern goddess with strength, love, acceptance and trust so you can turn your wounds into wisdom and leave limitations behind!
Module 3 [The Aphroditic Lover]
Become a Force of Creation and Confidently Own your Sacred Feminine powers with Empowerment, Sensuality and Wholeness!
Module 4 [The High Priestess] Learn how to Unleash your Spiritual gifts by Tapping into your Higher Self and Show Up Powerfully to Serve as a Healer that Transforms Lives right from the start!
Module 5 [The Warrior and Wild Woman] Sacred Self Care Routine and Skyrocket your Energy Level by learning Ancient Taoist and Vedic practices to become an irresistible goddess magnet that draws in what you want with Impact and Radiance!
PHASE TWO: SUCCESS PRIESTESS EVOLUTION (3 months)
Unleash your Inner Goddess, Claim your financial and lifestyle freedom while Living on point with your Soul Purpose
Module 1 [Sincere Messaging]
Get Laser Lucid Clarity on your MESSAGING for a Rock Solid Successful Brand that brings in your dream clients, cash flow and lifestyle freedom
Module 2 [Supreme Packaging]
Packaging your Priestess Powers into an Irresistible Offer that gets your dream clients tangible results and transformations
Module 3 [Solid Successful Brand]
Branding as an Empress and Building Brand Authority
Module 4 [Securing Committed Clients]
Effective Tips and Tricks to SECURING Repeating Clients by Giving them Great Results that makes them Rave about You!
Module 5 [Stable Cash Flow]
Building an Audience for CONSISTENT CASH FLOW and Credibility
Module 6 [Soul-Powered Sales]
How to Sell to your dream clients with Ease and Grace
List of Resources
Certificate Upon Completion with 10 Hours of Practicum
What you get
Life time access to the entire digital curriculum
Biweekly LIVE Masterclasses with trainings and healing activations
Twice a Month Group practice sessions to practice reading aura, energy healing and channelling
3x 60mins private healing sessions
6x 30mins private Q&A, business training sessions with me
Access to a Private Facebook Group for community support and training
Certification of acknowledgement upon completion of program, a profile spot in the official website
Private email support
Course Curriculum
WELCOME TO HIGH PRIESTESS ASCENSION ACADEMY
Available in days
days after you enroll
Module 1 - [Goddess Manifesto] - Unleash your Inner Goddess to map out your high priestess ascension pathway and manifest your fulfilling and abundant future!
Available in days
days after you enroll
Module 2 [The Divine Mother] - Nourish your inner child with love, acceptance and trust so you can turn your wounds into wisdom
Available in days
days after you enroll
Your Instructor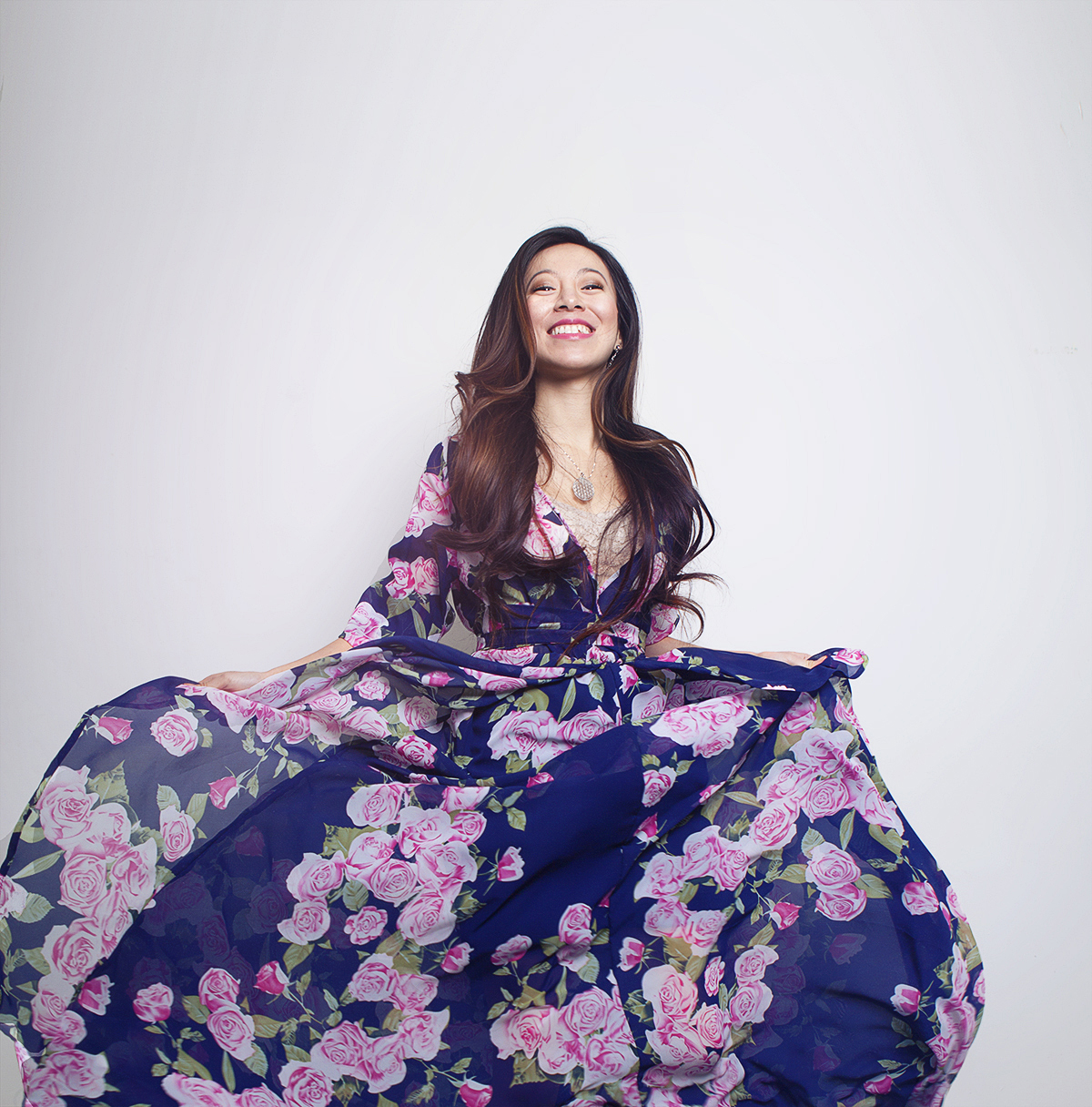 Hi, I'm Tiffany! I am the founder of My Inner Temple, New Earth Alchemists Academy, and High Priestess Ascension Academy. I am a certified meditation, Kundalini and chakra facilitator, Reiki Master level teacher, certified completion process practitioner, Tao Divine Healing Hands Healer, Ayurvedic Lifestyle Consultant, Thai Yoga Massage therapist that uses many modalities to release inhibiting fears and emotional pain caused by past experiences. I have led 250+ successful and valuable conscious workshops, healing events, courses, retreats, and webinars every year to share with my community in everything that helps us heal and be empowered. I specialize in energy healing, alchemy healing and facilitating your soul light journey to find your inner truth.
Frequently Asked Questions
When does the course start and finish?
The course starts now and never ends! It is a completely self-paced online course - you decide when you start and when you finish.
How long do I have access to the course?
How does lifetime access sound? After enrolling, you have unlimited access to this course for as long as you like - across any and all devices you own.
This course is closed for enrollment.